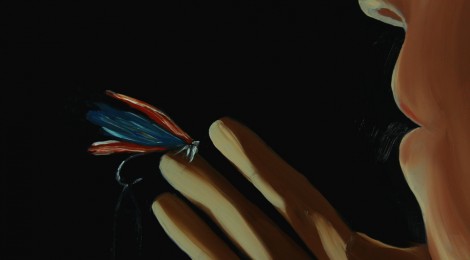 It sounds improbable, being enchanted by a movie about fly fishing. No wait, not even fly fishing. A movie about making flies for fly fisherman. A movie about a Scottish spinster who lived in a rural cottage making these beautiful bits of rainbow and temptation.
Improbable but true. Beautifully crafted by director Eric Stone (The Bridge), the film Kiss the Water is "quietly spellbinding… a wee treasure" in the words of one (obviously) Scottish critic. Props must go to the British artist Em Cooper who added the most perfect animation to the film.
Discovering Kiss the Water was one of those unexpected magical moments that are happening more and more often in the work that I'm doing. The setting for the screening was the Water Docs Film Festival in Toronto last week. I was privileged to be able to contribute to the event, spearheading their social media efforts, madly and happily shouting to the world about not just this film, but about "all things water". Cautionary tales, complicated politics and inspiring advocacy were all evident at the event and in the films. I came away not just inspired, but changed.