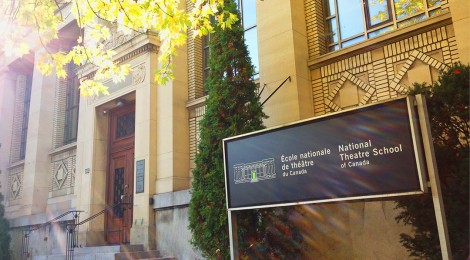 Over the past month I had the privilege of working with three different sets of students at the National Theatre School in Montreal. The school's main home is a kind of shabby-chic old building – a former juvenile courthouse apparently – and a bit of a labyrinth of stairwells and hallways that don't lead where you think they should.
I got to know the 3rd year Acting and Directing students while leading an intensive workshop on Social Media for Actors. It generated varying levels of enthusiasm and skepticism, but now I get to track their every online move as they navigate  their last year at the school. It would be nice to get back to see their first production of the season, Judith Thomspson's Lion in the Streets, directed by Ravi Jain. Judith is of course an NTS alum.
The bulk of my time was spent with the 2nd year Acting class and instructor-extraordinaire Rosemary Dunsmore. Rosemary, NTS Artistic Director (of the English Section) Alisa Palmer and I began plotting this past summer about how we might introduce the camera to these young actors… most of whom had never been on a film set or auditioned for a TV part. We came up with some gentle and creative ways to allow them to experience the camera as a partner, not an antagonist. We emphasized process, not product – initially using the camera more to document their work with Rosemary than anything else.
But for the last week of my time there we had some fun creating "product" as well –  Jared Lorenz (my production partner-in-crime) and I filmed six two-handers from the fantastic Suburban Motel by George F. Walker. The students prepared different scenes from both Problem Child and Featuring Loretta. We then spent the better part of a week holed up in the school's Video Lab editing the scenes.
Screening the admittedly rough "fine" cuts of the scenes was, I think, a thrill for the students, and surprisingly exciting for me as well. The experience reminded me of what can be done with minimal time and resources, when you have the two key ingredients to a great film in place: a kick-ass script and fine actors. We shot 35 minutes of movie in one short day! Of course having a talky script works best, and a confined location. But worries about set dressing, a cable in the shot, a soft close-up… they can all take a back seat, a way-back seat, when you have a compelling story delivered by compelling actors.
This isn't news, but the reminder of it, the execution of it… well it was inspirational, truth be told. Not where I thought those hallways would lead me at the end of a busy but creative week.